While the design is unchanged, the combination of faster performance, better display, and improved cameras make this the best Pro phone yet.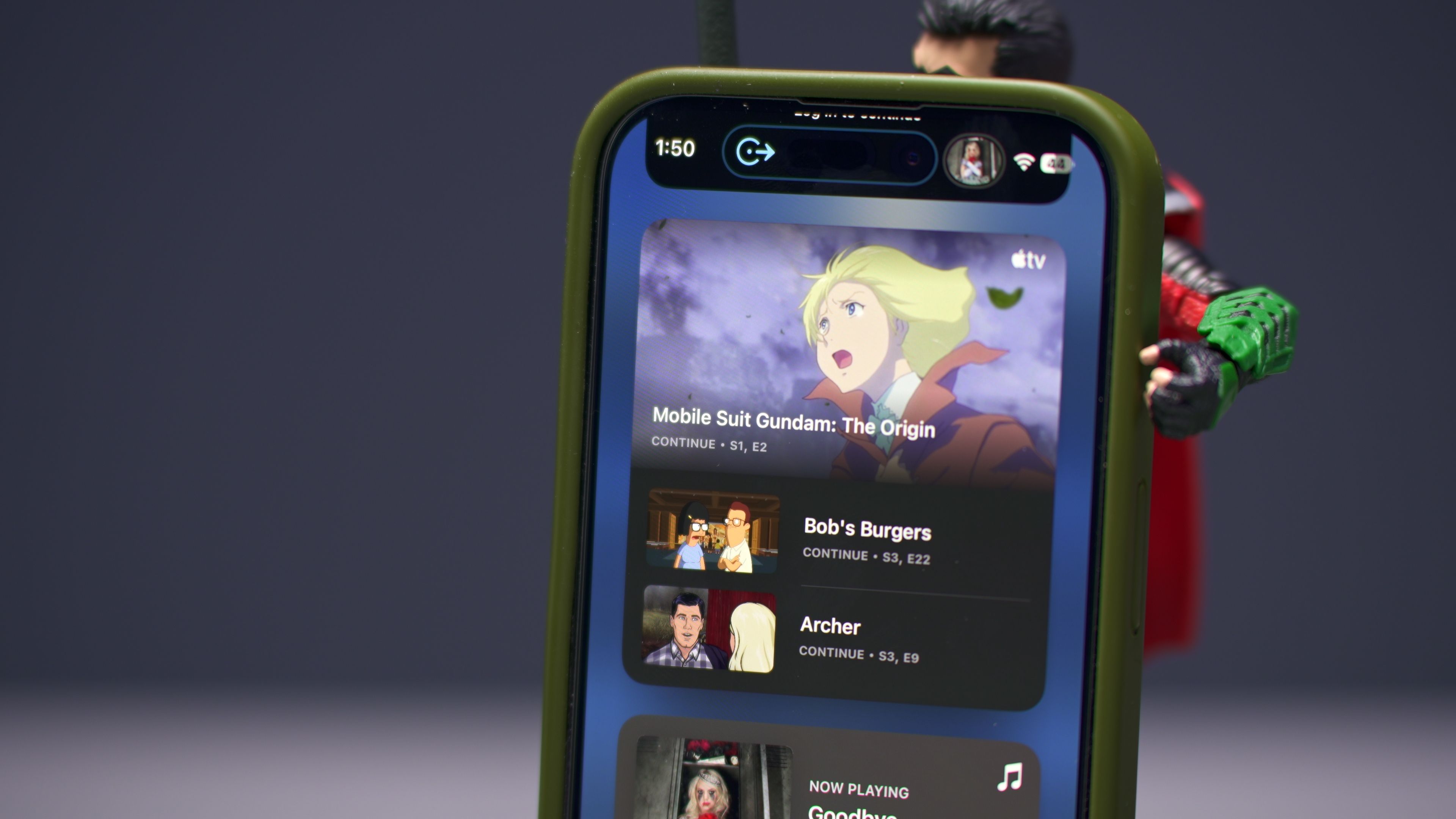 While the iPhone 14 Pro might look nearly identical to its predecessor, it brings software and hardware improvements including the new Dynamic Island, a bigger battery, and faster cameras, that continue to make the Pro series one of the best premium smartphones for less than $1000.
Key Features
Dynamic Island
Always-On display
ProMotion technology with adaptive refresh rates up to 120Hz
48MP Main Camera
Specifications
Brand: Apple
Display: 6.1″
RAM: 6 GB
Storage: 128GB, 256GB, 512GB, 1TB
Battery: Li-Ion 3200 mAh
Operating System: iOS 16+
Front camera: 12 MP, f/1.9, 23mm (wide)
Rear cameras: Wide, Telephoto, Ultrawide
Dimensions: 5.81 x 2.81 x 0.31 in
Colors: Space Black, Silver, Gold, Deep Purple
Display type: Super Retina XDR
Weight: 206 g (7.27 oz)
Charging: Lightning
IP Rating: IP68 (6 meters up to 30 minutes)
Price: $999
Pros
More performance than you'll ever need
Impressive video & photo
Display gets extremely bright outdoors
Main camera gets its first MP bump in a long time
All-day battery life
Cinematic mode supports 4k 24 fps on all cameras now
Cons
No physical sim
Limited manual camera controls
Still uses lightning port
3x Camera remains unchanged
Thinking about upgrading to Apple's newest "Pro" iPhone? The iPhone 14 Pro looks nearly identical to last year's 13 Pro, which isn't surprising, however, it does have a few new and unique features including Dynamic Island, an optional always-on display, as well as upgraded cameras that are better in low light, offer better stabilization, and higher detail.
At $999, the iPhone 14 Pro is very much a premium device, however, it is arguably the best $1000 phone you can buy for its speed, specs, and camera performance. While its overall user experience will largely feel the same as the iPhone 13 Pro and even older non-Pro iPhones, those who prioritize having the best camera and display on a phone will not be disappointed with the iPhone 14 Pro—but there are a few considerations to keep in mind.
My "Upgrade"
Since first switching from Android with the Samsung Galaxy Note 9 to an iPhone 11 in 2019, I have been upgrading to the newest iPhone every year. I quickly fell in love with the size and value of the Mini series and have owned both the 12 Mini and the 13 Mini, which I then upgraded this year to the iPhone 14 Pro. I would have loved to stay with the $699 Mini, but was heartbroken to learn that it would be discontinued indefinitely. With the iPhone 14 retailing for $799, the 14 Plus for $899, the 14 Pro for $999, and the 14 Pro Max for $1099, I personally felt that the 6.1″ Pro offered enough added features over the non-Pro to justify the $200 premium.
I purchased the 128GB iPhone 14 Pro in Space Black for $999. This is my most expensive phone purchase to date, and while I do miss the days of premium sub-$500 smartphones, I still feel like the 14 Pro offers the best value for my needs in 2022, especially as it offers one of the best compact camera experiences.
iPhone 14 Pro Design
Compared to last year's iPhone 13 Pro, the 14 Pro has the same shape and button layout with the Lock button on the right, and its silent and volume rocker on the left. With its larger camera bumps and higher capacity battery, the 14 Pro is slightly heavier and thicker than the 13 Pro weighing 206g vs 204g and measuring 5.81 x 2.81 x 0.31 inches, compared to 5.78 x 2.82 x 0.30 inches. The size difference between the two devices isn't enough to notice though, and given the overall similar design, it isn't hard to confuse them.
The 14 Pro is currently available in four colors (Deep Purple, Gold, Silver, and Space Black), which is one option less than the 13 Pro. Alpine Green (my favorite) and Sierra Blue are no longer available, but this year's Deep Purple is a nice addition.
A design change that isn't immediately noticeable is the absence of a SIM card tray for all US buyers. My carrier, like many others, makes the switch to an E-SIM simple, meaning you don't really lose out unless you plan on traveling overseas and hope to enjoy the ability to easily pop in a physical SIM to get new phone service quickly.
In terms of RAM and storage, the 14 Pro is almost identical to the 13 Pro. The 14 Pro still comes with 6GB of RAM and is available in 128GB, 256GB, 512GB, or 1TB storage configurations. Just as with the 13 Pro, it's important to note that the 128GB model limits Pro-Res video recording to 1080p 30FPS, something that isn't made entirely clear before purchasing. This was very disappointing to discover, and while yes, the smaller storage on the 128GB models would quickly be eaten up with Pro-Res files, as a Pro device with otherwise the exact same hardware, users should be able to make that decision themselves.
iPhone 14 Pro Performance
Unlike last year's iPhone series which all had the A15 processor, Apple has decided to make the new 4nm A16 ​​Bionic chip exclusive to the Pro lineup, whereas the iPhone 14 and 14 Plus are stuck with the older A15 still. As the newer A16 is still a 6-core CPU, 5-core GPU, and 16-core Neural Engine chip, most users will never notice a difference. The A16 is about 22% faster according to Antutu 9 benchmarks which measure CPU, GPU, and RAM; but in 3DMark which can give you a better idea of gaming performance, we see just a 4% improvement.
While the newer 4nm architecture, 7% higher CPU clock speed (3460 vs 3240 MHz), and 20% higher memory bandwidth (51.2 against 42.7 GB/s) sound significant on paper, there still aren't many apps or games that can take full advantage of all that performance. In fact, for most day-to-day tasks, an iPhone 12 or 11 will feel just as snappy.
Battery Life
Unless you are doing heavy video rendering or batch photo edits, it's unlikely that the performance gains will ever be noticeable. Instead, the more efficient A16 chip helps provide up to an hour of extra battery life on the iPhone 14 Pro. This gives around 23 hours total of video playback, thanks to its slightly larger 3200mAh battery compared to 3095mAh with the 13 Pro. Coming from the iPhone 13 Mini which only had up to 17 hours of playback, these additional 6 hours of runtime have been significant for me and I almost never had any battery anxiety.
As someone who often forgets to charge their phone at night, I can start a day with about 75% of battery at 9am and end with about 25% by 10pm with approximately five hours of screen on time. Even compared to the iPhone 14 which has 20 hours, the 3 hours you get from upgrading to the 14 Pro could alone be worth it to some.
Display
Coming from the significantly smaller 5.4″ iPhone 13 Mini, a 6.1″ display is plenty for me. While on one hand I know I would occasionally appreciate the 6.7″ display on the iPhone 14 Pro Max, I knew that carrying around the larger and heavier phone would overall be a drawback that wasn't worth the extra $100.
The iPhone 14 Pro features a 6.1″ 120Hz OLED HDR display—superficially the same as the 13 Pro— but it has some key differences. In addition to the benefits of Dynamic Island which offer "a new way to interact with iPhone" I'll cover shortly, the smaller notch results in a few extra pixels of useable screen space at 2556 x 1179 (compared to 2532 x 1170). Additionally, the iPhone 14 can get much brighter with 1600 nits peak brightness (HDR) vs 1200 and a very impressive 2000 nits peak brightness (outdoors).
Another difference is that the iPhone 14 Pro's ProMotion can now go as low as 1Hz compared to 10Hz on the 13 Pro. This allows the display to consume less battery when viewing static content like news articles or photos, but it also introduces an always-on display option. I've never been a big fan of using an always-on display and opted to turn it off immediately. It can be customized to provide information on time, notifications, media, weather, and more at a quick glance, but I can just as easily double-tap on my screen when I need to see it. It's great that iPhones finally offer this, however it seems Apple is still improving the efficiency with this feature, and for right now I don't see a need to use it.
Dynamic Island
Although Dynamic Island is actually an excellent implementation of software and UI to hide hardware limitations, it feels very Apple to make it an exclusive feature of the Pro lineup. Dynamic Island offers several benefits, including quickly showing you relevant information like navigation directions or media playback controls, but it certainly isn't a "Pro" or must-have feature that should push you to upgrade from your older iPhone or to buy the iPhone 14 Pro over the cheaper iPhone 14 or iPhone 14 Plus. And there's no reason for it not to be added for other models, other than artificially forcing a difference.
Apple has effectively made the touch responsiveness of this black notch feel like any other part of your display. The notch wiggles and moves to your touches. It's significantly smaller than it digitally appears most of the time, taking approximately one-third of the width of the top of your display.
It's not until you take a closer look while the display is off that you realize that there are actually two separate cutouts, one for the selfie camera on the right and a wider one on the left for the other sensors. When the display turns on, the deep blacks on the screen make the notch appear as one single cutout. It's only when you look at the notch from certain angles you can notice a difference between the physical and digital parts of the cutout.
When the notch displays information like your directions, it widens on both sides, where it shows the direction to take on the left and the distance on the right. If you open a second compatible app like Apple Music, the upcoming turn remains on the left, while the cut-out on the right shrinks to its smallest width, and then a separate bubble displaying the album art pops up to its right. Clicking on the album art will return you to the now-playing screen and then the notch will return to showing you the distance on the right as it previously did.
Similarly, clicking on the directions will open your navigation app and then the entire notch is dedicated to displaying the now-playing media with the album art now on the left and the EQ on the right. Even better, when you long press on the notch, it will increase its size, taking up about 1/4 of your top display, and now shows you additional media information including the artist and song title as well as the providing playing back controls and scrubbing.
It would have been nice if swiping on the notch while It's still small allowed for quickly changing tracks without needing to expand it or opening the music app, but it's still a huge benefit. For general notifications like switching from Silent to Ringer, the notch will wiggle and clearly say Ring or Silent. When receiving or placing calls, you will see the phone icon, the duration of the call, and even a waveform for the audio.
The notch has quickly become one of my favorite features on the iPhone 14 Pro. I honestly thought it would be more of a gimmick that I would quickly forget about, however, its relevant information, quick app switching, and notifications have proved to be very useful.
On the other hand, if you'd prefer to have as much display as possible, many competing Android devices including the latest Google Pixel 7 have implemented significantly smaller pinhole cutouts for their front-facing camera. The iPhone 14's notch is undoubtedly large, however, those are required for the LiDAR sensors that result in a more secure face unlock than any Android phone features. Dynamic Island might just be a stopgap until Apple can figure out a better solution, but it's a worthy trade-off in the meantime.
iPhone 14 Pro Cameras
As a photographer and videographer, I was most excited to try the iPhone 14 Pro's new cameras. While Apple has continually improved its cameras with bigger and faster sensors and better software, this is actually the first time in seven years that we've seen a sensor bump on the primary lens from 12MP to 48MP.
This might not seem very impressive considering many competing phones like the Samsung Galaxy S22 have had 50MP sensors and greater for several years now. But bigger isn't always better, especially when it comes to low-light quality. iPhones usually only implement a feature when they know it's going to be the best, and that's certainly the case here.
Video Quality
All three rear cameras can shoot at [email protected]/25/30/60fps, [email protected]/30/60/120/240fps, 10-bit HDR, Dolby Vision HDR (up to 60fps), ProRes, and now support full 4K Cinematic mode ([email protected]/30fps), which was previously limited to 1080p. Switching between subjects and tracking in Cinematic mode is now faster and more accurate. While this digital effect still isn't a replacement for real bokeh, it can be really effective with the right subjects and lighting. Cinematic mode is unavailable when shooting in ProRes, which should highlight how this isn't really intended as a "Pro" feature, despite Apple's continued push. For more casual content, however, it can really up your production value when done right.
To really get the most out of these cameras, I would highly recommend using a 3rd party camera app like Moment as they give you full manual controls which are disappointingly absent in Apple's default app still. When you've dialed in your ISO and shutter speed properly, the videos you can capture are outstanding, even in very low-light scenes. I filmed some quick clips in 4K 24fps LOG with the Moment app during a flight out of Las Vegas and was blown away. You can easily push the color grading and get a very professional look with minimal effort. When shooting in LOG I could really see a huge improvement in low-light performance compared to my iPhone 13 Mini. It's a shame that these "Pro" iPhones don't trust users enough to take full control in their own app.
Wide Camera
I've always been impressed with my iPhone's photos and this year isn't any different. I found that daytime photos and videos are still very close to their predecessor when using the main wide-angle cameras. The iPhone 14 Pro is slightly wider at 24mm vs 26mm which might be ever so helpful in extremely tight situations, but likely won't be too noticeable. Apple claims that their new main 48 MP, f/1.8, 24mm (wide), 1/1.28″ sensor—which is 65% larger—is up two times better in low light than on the iPhone 13 Pro.
By default, the iPhone 14 Pro will still take 12MP stills, however, there is now four times the detail because of its quad-pixel setup. To take 48MP stills you will need to toggle ProRaw from the top of camera app. This will give you additional editing control over your images and help you achieve more of that "Pro" look, without being stuck with your camera's baked-in processing, which tends to result in over-saturated and overly sharp images.
Keep in mind that these file sizes can get huge with a 48MP RAW photo on the main lens 50-100MB file size, while 12MP RAW on the Ultra Wide is about 15-30MB.
Ultra-Wide Camera
The 12MP, f/2.2, 13mm, 120˚ (ultra-wide), 1/2.55″ ultra-wide sensor is larger on the 14 Pro compared to the 1/3.5″ f1/1.8 on the iPhone 13 Pro. I found myself using the ultra-wide far more than I have in the past as it overall looked much sharper even without ideal lighting. Corners of images appear softer on my iPhone 13 Mini.
Telephoto Camera
While the 12MP, f/2.8, 77mm (telephoto), 1/3.5″, PDAF, OIS, 3x optical zoom lens appears to be unchanged from the iPhone 13 Pro, you can possibly achieve better and sharper images, especially in low light due to its improved computational photography. In the daytime though, it's unlikely that you'll see much of a difference.
The telephoto isn't on par with the main wide camera in terms of detail and is definitely a step behind with low-light performance, however, it still allows you to capture better photos of subjects further away compared to cropping a wide-angle image.
As I didn't have the telephoto lens on my previous iPhone 13 Mini, I really appreciated the extra range I could now capture, especially for subjects that I couldn't feasibly get closer to like wildlife, tall buildings, and live concerts. When compared to using the iPhone 13's main wide-angle lens and cropping in, to the iPhone 14 Pro's telephoto, there is a huge difference of course. You'll still need a steady hand as OIS can only do so much when you're shooting at 77mm. The iPhone 14 Pro can shoot a max 15x digital zoom. The results aren't bad, but I'd only use it in a pinch.
Selfie Camera
The iPhone 14 Pro's 12 MP, f/1.9, 23mm (wide), 1/3.6″ is slightly faster than the 13 Pro's f/2.2 and now supports auto focus too.
In addition to the previous HDR, [email protected]/25/30/60fps, [email protected]/30/60/120fps recording modes found with last year's iPhone models, the 14 Pro can also shoot Cinematic mode ([email protected]/30fps) with its selfie camera now.
Just as with the cinematic modes on the rear lenses, I found myself using this mode frequently as the results could be really pleasing, and provided your subject or background wasn't too complicated, the bokeh was also very convincing. Crazy hair strands and certain glasses can still throw off its background blurring, but overall, I had a lot of fun using it. For vlogging especially, I think this is a great mode to use.
The Best Pro $1000 Camera of 2022
The iPhone 14 Pro continues to be an excellent choice for users who want the absolute best "Pro" phone experience. While the design has remained largely unchanged compared to last year's iPhone 13 Pro, the combination of faster performance, better display, and improved cameras are significant when added together.
In truth, the iPhone 14 Pro, and many of its predecessors are overkill for most users, however, if you want the best display and camera, it's an excellent premium choice and arguably the best $1000 phone of 2022.